Global Workforce Intelligence
Gain total talent visibility, expand extended workforce compliance, and reduce company risk all in one platform
We've made total talent compliance a reality
Proactive risk identification to ensure your workforce is audit ready anytime, every time.
Gain real-time visibility of your total workforce by classification, organization structure, location and more.
Source with confidence to empower your teams with decision guidance that maintains compliance.
With Global Workforce Intelligence, you can see and analyze data from your entire workforce – employees and non-employees – all in one platform.
Visibility and control over the entire workforce
Benefits Include:
Visualize the total workforce mix across teams geographically and by organization structure
Identify and mitigate compliance risks (Co-employment, Financial irregularities, Employment Standards, Regulatory, Statutory, Company policies)
Configure compliance rules (i.e., certifications, pay equity, vaccinations, tenure, wage and hour)
Minimize compliance risk with decision guidance for accurate worker classification
Ensure compliance with an "always on" audit of workflows and system actions
Streamline hiring/procurement workflows with a single place to request work
Improve efficiencies to reallocate resources and save time
Learn more
Extended workforce compliance solved
Compliance engine - Customized compliance rules and alerts
Total workforce navigator - Real-time visibility for your entire workforce
Worker hub - Single request location for all work and workers
Onboarding/offboarding workflows - Automated worker management
Front door - A single place to request work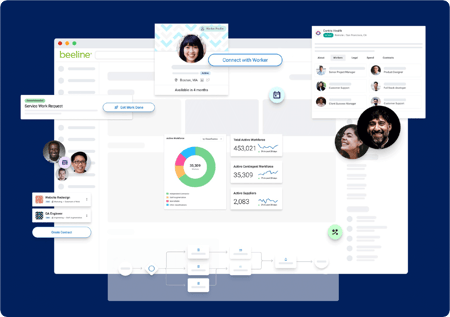 Imagine the results you could achieve with one platform capturing your total talent.
One solution for your total workforce
"We now think about talent more proactively to strategically consider what we need to get work done... expanding visibility for all populations, for cohesive strategic thinking."
– Cyber Security
Let's talk