Any company using contingent workers needs to assess their management process to understand performance and how to improve it. Examining your company's program maturity is essential if you wish to continue progressing up the maturity curve and delivering more value back to your business. In the exhibit below, the consulting firm Everest Group presents a typical maturity curve with stages ranging from basic and developing to organized and mature. Can you see where your business sits? If you can, then you may also be ready to explore the steps you should take next.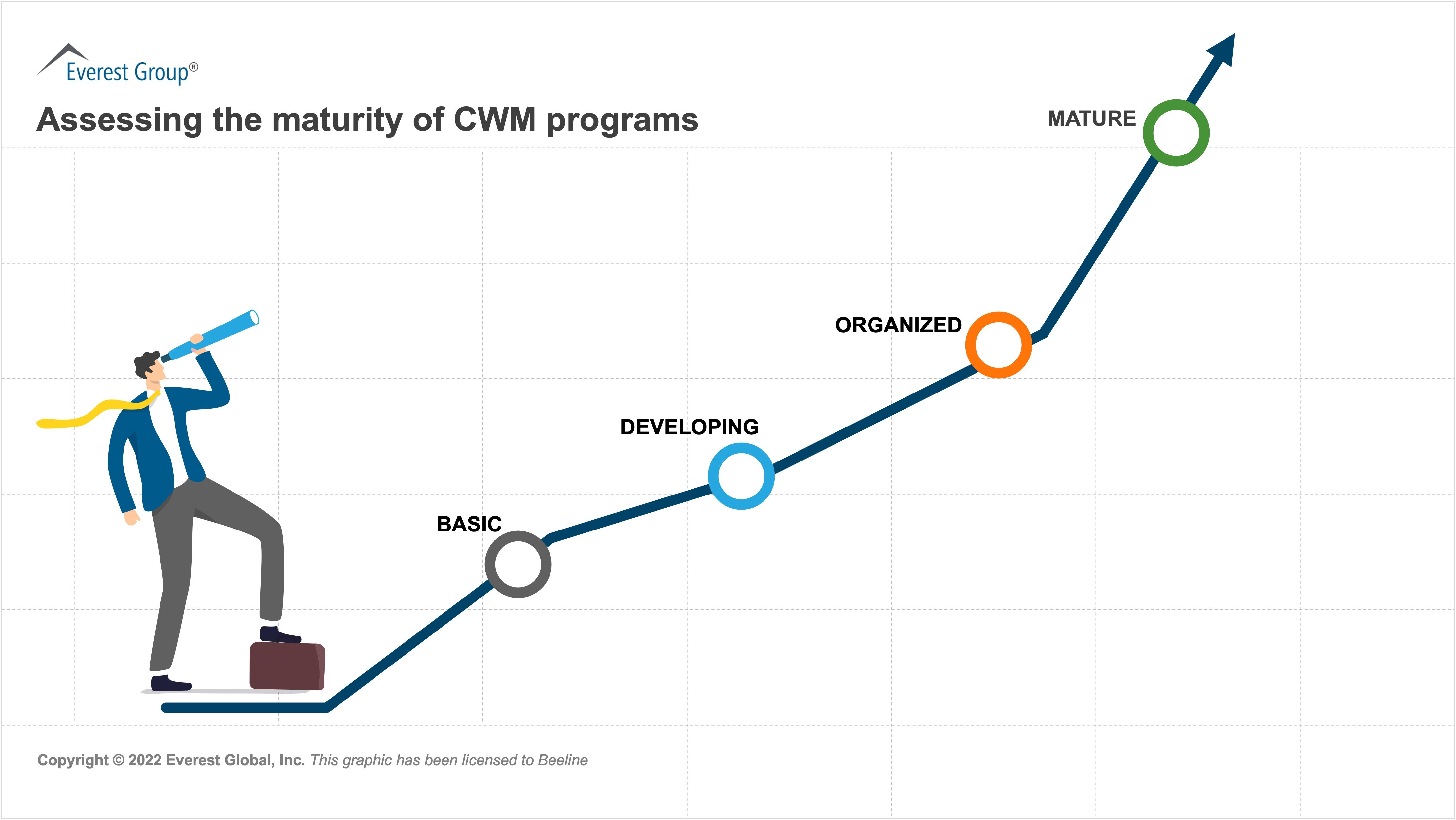 But what exactly is contingent workforce management (CWM) maturity? How can you see what stage you are at, and why is it important to assess your business?
What is CWM maturity?
CWM program maturity is a tool enabling businesses to assess the current stage of their program against key indicators. In simple terms, the more mature a program is, the more effective it is. The key indicators include strategy, operations, scope, and technology. Each of these factors deliver value within a CWM program. They work in unison to deliver back to the business and support the overall maturity of the program.

The lower end of the maturity scale describes programs that fail to anticipate future needs and instead focus on the immediate demand for talent. Often these programs have fragmented systems, a lack of structure, and inefficient processes, resulting in a management system that is unable to efficiently source and manage a contingent workforce. These companies are missing out on opportunities to optimize processes, reduce costs, and increase management visibility.
What are the benefits of improving CWM maturity?
Future-proof systems
A mature CWM program is built for future assignments and workers by forecasting demand and allowing the business to effectively scale up, or down, the level of contingent talent they use. Using the best-in-class sourcing and management strategies, these programs can optimize the acquisition process and deliver talent when and where it's needed most.
Improved data visibility
A mature CWM provides visibility and easy reporting in real time. Procurement managers can align and centralize the data of permanent and contingent talent giving a full view of the entire workforce, including various categories of contingent labor (shift-based labor, statement of work (SOW)-based projects, ICs/freelancers. and gig workers). They are also able to standardize processes to regularly review and update data.
Integrated technology
Integrated technology is the foundation of any successful CWM program. Mature programs have global integration with a range of other enterprise solutions, enabling the use of various tools without jeopardizing contingent management. These CWMs also support enterprise-wide data analysis that can be used for additional optimization, such as determining workforce needs in real time.

Contingent management technology: the path to maturity
It is clear that assessing the maturity of your CWM is a necessary step to understand how to improve effectiveness of the current management of your extended workforce. Understanding where you are now allows you to plan what to deliver next in order to continue up the path to maturity and continue to deliver better outcomes for your business.

To find out more, read Everest Group's report that provides more detail on contingent workforce program maturity as well as discussing the four factors that make certain vendor management system (VMS) providers better partners for your CWM program.