External Workforce Intelligence
Go beyond reporting to provide smart methods of accessing and analyzing large sets of complex data.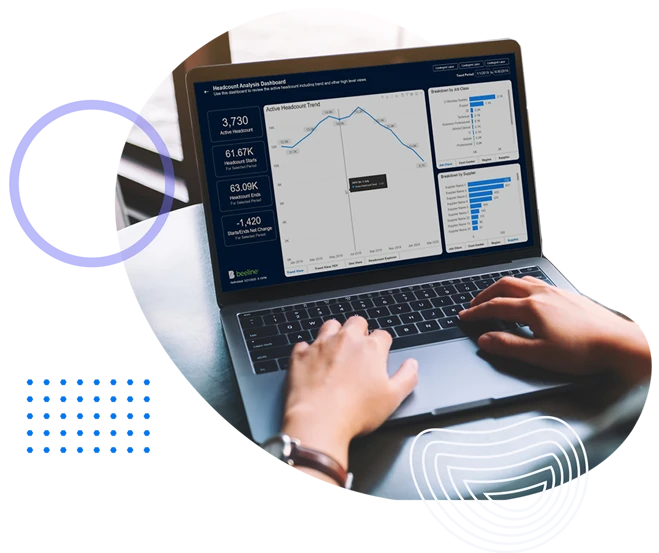 CONTINGENT WORKFORCE INTELLIGENCE
Contingent workforce programs generate massive amounts of data. This data can be used to make your program operate more efficiently and more cost-effectively, but only if the data can be turned into actionable intelligence. Beeline Extended Workforce Platform employs the industry's most robust and most advanced set of AI-powered analytic tools to convert workforce data into workforce intelligence.
Benefits include:
Finding the right talent, at the right price
Data-driven root cause analysis that drives better rates, faster cycle time, improved sourcing strategy, and overall talent experience
Actionable insights delivered at precise points of critical decision-making
Topical dashboards and underlying data exploration
Learn more
Powerful, easy-to-use analytics and data visualizations
Combined with the industry's most comprehensive set of contingent workforce data, Beeline's powerful, easy-to-use analytics and visualization functionality enables all users to make better informed, data-driven business decisions.
Beeline has a global data set incorporating more than 30 million workers and over $700 billion in talent spend spanning more than 20 years. This data provides our clients with deep, meaningful, and actionable intelligence for better workforce strategies.
PEOPLE-FIRST EXTENDED WORKFORCE PLATFORM
See the difference for yourself
Our people-focused, "augmented intelligence" approach to AI applies advanced techniques to support and augment human activities by sifting quickly through masses of connected data to understand concepts and infer meaning so that our systems can better respond to a human user's inquiry. The result is an extended workforce platform that is more powerful – and easier to use – than any conventional VMS technology.